Earth under the microscope
Exhibition Design, Graphics Design, VR, Interactive Design, Arduino, Data visualization
The project funded by and exhibited at the Munich Science Communication Lab, Deutsches Museum Munich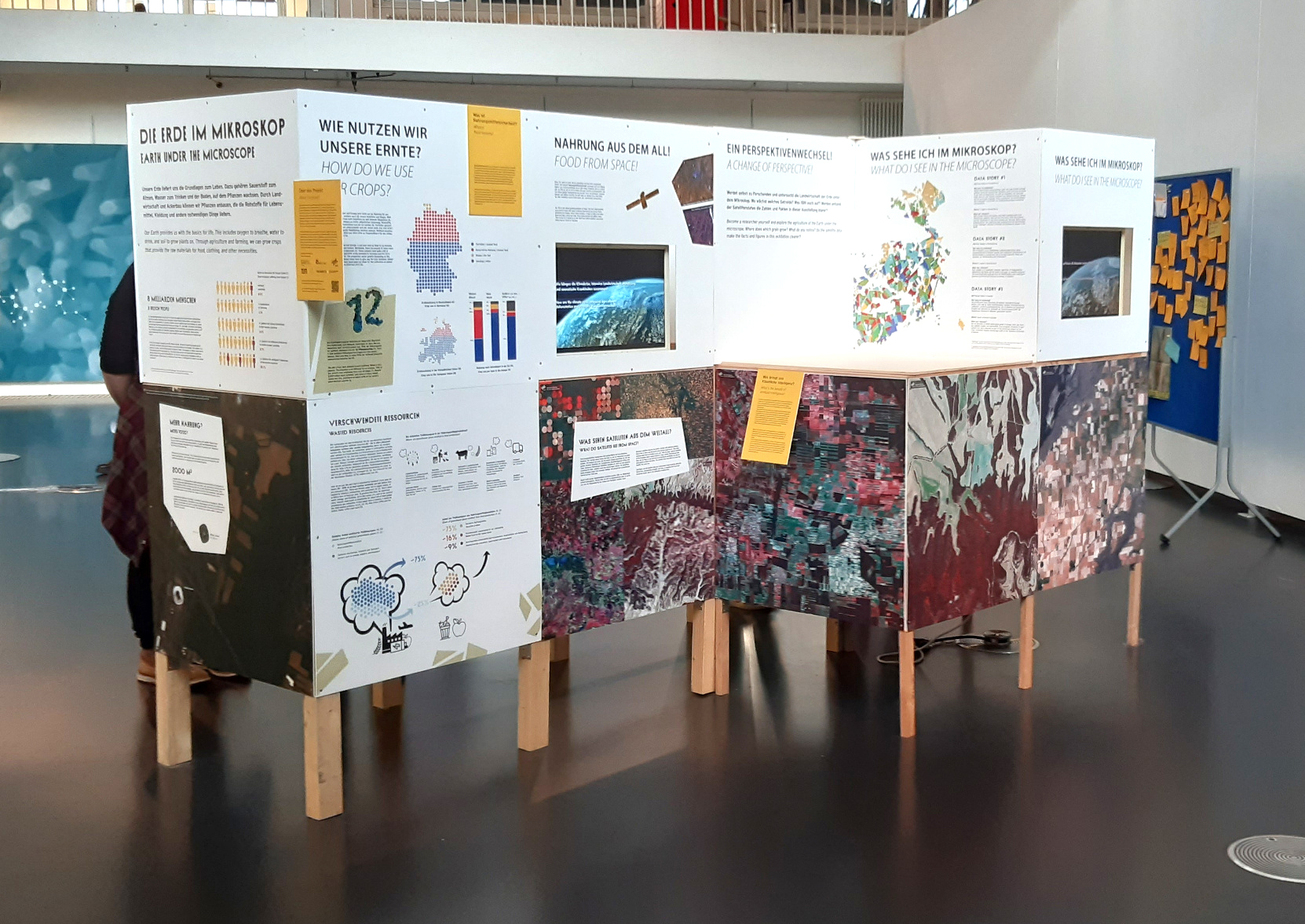 The exhibition
Where do my cereals come from? What about Planetary Health? We are facing major challenges: a growing world population needs to be fed. In the process, planetary boundaries have long been exceeded and the global ecosystem is under strain. Does modern, intensive agriculture really provide food for all? Our food system is in a deep crisis. Why is that, what does it matter to me, and what role does my own consumption play? Is there hope and what can I do? A view from space gives answers.
In this exhibition, you are the center of attention…
We provide you not only with facts and figures. Follow in the footsteps of researchers yourself and examine real satellite data and Planetary Health under the microscope. Get an overview and draw conclusions. Intuitive graphics help you to put everything into perspective. You are also invited to ask questions directly to a local expert! What about agriculture in your neighbourhood? See the latest images from the European Earth observation satellite "Sentinel"!
Changing Perspective and Taking Responsibility
As humans, we are used to images of Earth from above via imagery or videos. At the same time, it is often hard to grasp the global context of fundamental planetary challenges. For example, Planetary Health, is a global issue that appears beyond our radius of influence. Individual actions seem insignificant in comparison.
Our exhibition intervenes right here and empowers the individual. We aimed at communicating the scientific process of drawing conclusions about Planetary Health from Earth Observation (EO) data in an entertaining and immersive way and at fostering a mutual dialogue between the public and scientists.
We changed the perspective on Earth by transforming it into a tiny vulnerable object that visitors can examine under the microscope. We followed a participatory approach where visitors were able to become active researchers themselves and live through the scientific process of investigating real data. The exhibition was accompanied by Earth Observation Scientist who were open to get into conversations with visitors.